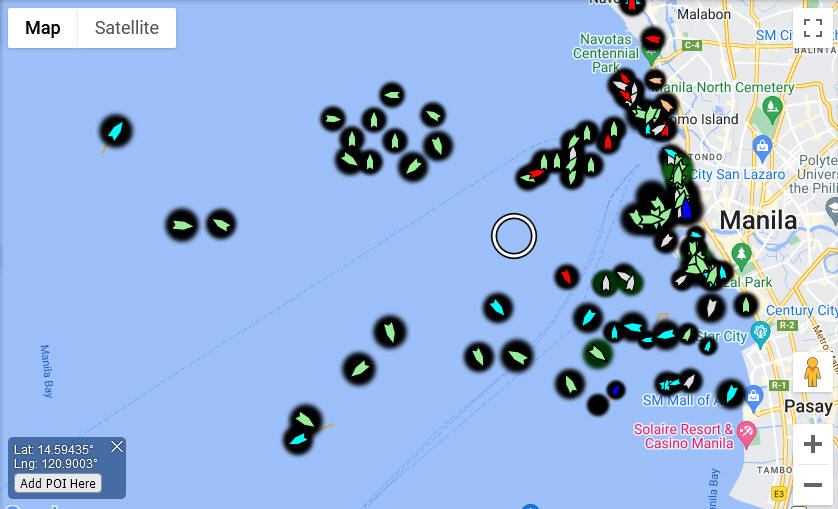 FireLinkLive does not replace existing systems. FireLinkLive is a CLOUD application that processes a wide range of data from 3rd party systems and merging the data onto common shared video screens ranging from Smartphones to Wall Screens via 4G-LTE and Satellite links outside cellular coverage.
FireLinkLive is based on Datalink's DataGate Server Software in use by military and government agencies in many countries.
FireLinkLive is the equivalent of ADS-B for Flight Following and AIS for tracking ship movements. The panel on the left is a freeze frame of DataGate/WebGate monitoring live ship movements in Manila Habour region in the Phillipines. Ship location updates are typically under five seconds.
FireLinkLive processes GPS location information along with other data from a range of ground and air assets assigned to battle major Wildfires anywhere.
LINK OPTIONS
GPS track ground firefighters with Solara FLARE and Firelink App.
Track Fire Trucks with existing 3rd party GPS or new 4G devices.
GPS track all field workers with Smartphone Android Firelink App.
Link other agencies such as EMS and Law Enforcement.
Track aircraft with direct feed ADS-B
3G-4G PTToC wide range group talk with www.VOCALIS.LIVE

Please visit our
home page
for more information.
---
QUICK OVERVIEW