Inrico T-526 Voice and GPS only
HYTERA and Motorola offer a "Stand Alone" cellular
PoC service.




Datalink's CellNet is network agnostic. An open network service.
A LOW COST COMMERCIAL ALTERNATIVE TO FIRSTNET
.
Datalink in partnership with NextM2M delivers a Network Agnostic M2M and VoiP service open to all LMR Dealers providing new recurring revenue market opportunities.


Datalink's PTTOC is fully integrated with WebGate which offers much more than basic PoC.

---
PTTOC VoiP SOLUTIONS
(PTT over Cellular)
An ideal solution for School Bus and otherFleets.
PTT between Drivers and Dispatch.
Emergency SOS with relay to multiple Emails.
Immediate GPS location on emergency trigger.
GPS every 20 seconds. Two way text messaging.
Optional Bluetooth RFID Student & Driver reader.
Low cost Cellular Airtime. Network Agnostic.
Links to 3rd party Student management programs
TRUE "PLUG-N-PLAY. NO WIRING INSTALLATION
---
DISPATCHE
R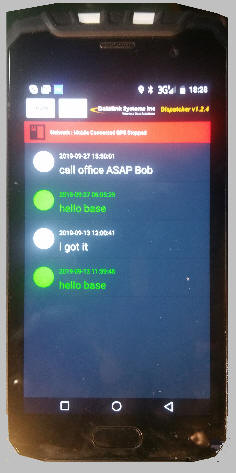 Datalink's dispatcher App. is included with PTTOC and also functions as a two-way messaging program, with all records stored in a database. We can create custom variations.
REDITRACK FOR READY MIX TRUCKS
RediTrack is an advanced solution, developed for the smaller independent Batch Plants at a cost they can affford. The Driver is always in contact with Dispatch using a rugged hand held Smartphone with Mapping and current STATUS updates. Credit Card processing can also be added. For those who want a fixed MDT in the Cab we recommend a 10" Android Tablet.
.
Ulefone ARMOR X
Datalink's PTTOC plus Datalink's WebGate is a winning combination!