3

30 SERVERS AROUND THE GLOBE PROVIDE FAST PoC WHEREVER CELLULAR IS AVAILABLE
In partnership with Shenzhen Corget Technology Co.,Ltd
---
With the launch of FirstNET, the merging of LMR with Cellular M2M Data/VoiP Networks is a reality, and quickly being accepted by the LMR Community. However FirstNET is a restricted and expensive service for Government Agencies and First Responders only.
---
A LOW COST COMMERCIAL ALTERNATIVE
.
Datalink in partnership with NextM2M delivers a Network Agnostic M2M and VoiP service open to all LMR Dealers and opens up new market opportunities.


For PTT over Cellular, Datalink partners with Corget, China to provide Global PoC communications.

Resellers have full control of their assigned Gateway.
COMPANION APPS

When you need more than two-way PTT voice, Datalink offers a choice of Android Apps for Android Tablets and Smartphones.


JOB-DISPATCHER
This is a complete job-dispatching program and can also function as a simple two-way messaging program with all records stored in a database. We can create bespoke variations.
.
RediTrack for Concrete Delivery Trucks.
RediTrack is an advanced solution, developed for the smaller independent Batch Plants at a cost they can affford. The Driver is always in contact with Dispatch using a rugged hand held

Smartphone

with Mapping and current STATUS updates. Credit Card processing can also be added. For those who want a fixed MDT in the Cab we recommend a 10" Android Tablet.



,


Contact Datalink to get a free PoC evaluation
log-in.
Use any Smartphone Android or iOS
Datalink PoC can be installed in most iPhones or Android Smartphones.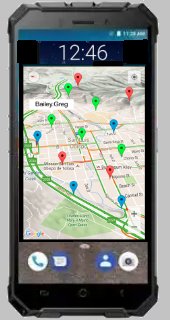 PoC TO LMR BRIDGE
As part of our PoC developments, Datalink will be offering a DataGate/ WebGate PoC to NEXEDGE and DMR I.P. Bridge.
3rd. Party Bridges utilising Donor Radios will also be considered upon request.